Featured Article of the Week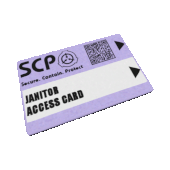 Keycards are items that allow access to the numerous locked doors and structures in Site-02.
Random Trivia
Did you know that...
...There used to be a cup item in older versions of the game?
...SCP-096 has an unused grapple animation?
...Hume Shield was initially going to be called Aetheric Resistance?
...SCP-458 was located in Site-02's cafeteria for one day?
Subreddit

We're partnered with the SCP:SL community subreddit r/SCPSecretLab! Go check it out!
SCP:SL Community

If you have any problems you wish to discuss outside the talk pages, you can visit the Wiki and r/SCPSecretLab Discord server here.

SCP: Secret Laboratory: About

"Amidst the chaos of a disastrous mass containment failure at the supposed "master site" Site-02, you fight your way to the top alongside —and against — other players. From devious D-Class and cunning scientists to elite Mobile Task Force units, rebellious Chaos Insurgency, and even the horrific SCP Entities, there are many key roles to play in this gruesome affair, so... How will you act amidst a containment breach?"
~From the official Steam store page

SCP: Secret Laboratory is a Unity re-make of the popular gamemode on Garry's Mod, called SCP: Breach.

The current version of the game is: v10.2.1

Check the changelog if you are interested in more details!

About This Wiki
This Wiki was founded after noticing the absence of official information centered in one place in English. Together with Magnusson, TheLion founded this Wiki with all of the knowledge they had of the SCP:SL universe and what actually goes on in the game.
We appreciate any meaningful contributions you can make to the wiki. If you want to help by editing some articles, please first read our guidelines on doing so.
If you want to see what you can do to help, check the following links:
Articles that require maintenance
Writing guides
Stubs

If you need to contact any wiki staff, you can find their profile pages here:

ThomasTheWest - Wiki Manager
Weaponizedsaltiness - Content Moderator
BoundToOnett - Content Moderator
The Lion - Wiki Founder and Former Owner

International language versions of this wiki
While this wiki is recognized as the community's standard manner to get information, provided for and by users, we're continuously looking to expand.
We currently support the following languages:
English
Russian/русский

If you want to link your language to this wiki, please send a request to the Wiki Manager.
You can find different languages in the top right area of the wiki's main page.
Community content is available under
CC-BY-SA
unless otherwise noted.